HCST&TA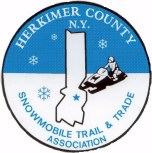 Herkimer County Snowmobile Trail & Trade Association
" Serving Herkimer & Otsego Counties "
The Herkimer County Snowmobile Trail & Trade Association (HCST&TA) was created to help further the sport of snowmobiling and to expand local tourism and trade by developing and maintaining a snowmobile trail system within Herkimer County. This trail system connects with neighboring counties as part of the overall New York State Snowmobile Trail Corridor System.
HCST&TA now serves Otsego County.
If you have any questions or comments about this website please contact the
webmaster
.

This page was last updated 11/7/02